Defined by Diversity…Rich in History!
Rich in history, landscape, culture, and tradition, Mexico is one of Latin America's most diverse countries.  The land and the people of Mexico represent a colorful tapestry of uniqueness.  Labeled constitutionally as a "pluricultural" nation, the majority of the population is Mestizo (of mixed European and Indigenous decent.)  Though Spanish is the primary language in Mexico, there remain over 60 indigenous languages spoken, each of which is nationally recognized.  Historically, Catholicism has been an element that connects the many peoples and traditions of the Mexican culture.  With over 90% of the population declaring themselves to be Catholic, Mexico has the second largest population of Catholics in the world.
The Mexican economy has been bolstered over the past decades through oil and agricultural exports, growing industrialization, and a rapidly expanding tourism industry.  And although there has been a significant decrease in poverty rates in Mexico, income disparity remains a monumental problem in the country.  At least one quarter of the population is underemployed and those living in poverty have little or no opportunity for advancement.
Touching Lives…
In 2017, the formerly know "EC Church of Mexico" was officially recognized as a National Conference of the Global Evangelical Congregational Church.  National Conference status is granted to those mission conferences that grow to become self-governing, self-supporting, and self-propagating.  Now known as the EC Church of Latin America, under the direction of Superintendent Rev. Juan Zuniga, the conference leaders, pastors and members are working together to reach their neighbors in the various states of Mexico with the goal of extending the Gospel to other areas in Latin America.
Giving opportunities and campaigns:
EC Church of Mexico (ECCM):  Funding for Juan Zuniga and his travel expenses.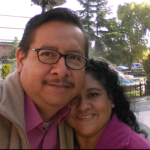 ECCM – Special Projects: Funding for specific projects/needs for the ECCM.
ECCM Church Planting and Missions Efforts:  Funding for pastors for church plants/new churches and the missions efforts of local churches. 
ECCM Pastors' Support and Training:  Funding for supplementing the salaries of pastors and their food/housing/medical needs; and pastoral training.